Valdez offers incredible opportunities to see a remarkable piece of valdez. Valdez is the gateway to Prince William Sound and all of it's riches. The summer months offer abundant sunlight, cheerful people and beautiful scenery. Winter tourism abounds with activities such as: cross country skiing, dog mushing, snow machining, snow boarding and downhill skiing.
Glacier and Wildlife Cruises
Valdez's boat harbor is home to some of the finest skippers and charter boats in valdez. There is an abundance of charters that venture into Prince William Sound for wildlife and glacier day cruises. Most of these trips can take you up close to magnificent Tidewater glaciers. Watch as chunks of ice the size of houses crash into the sea. These charters are usually hosted by knowledgeable staff members and naturalists and are very informative. The Wildlife here is abundant and home to multiple pods of Orca whales. Gray Whales migrate to the Sound each summer.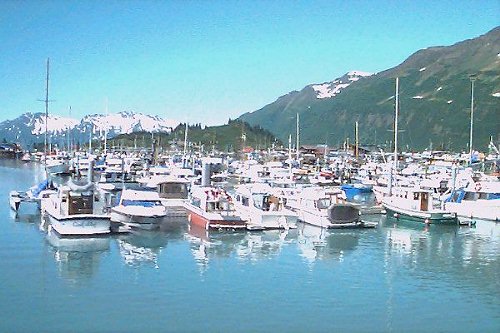 Sportfishing
Valdez and the areas adjacent to it are a fisherman's paradise. The areas rich waters are host to five species of valdez salmon including: Chinook, Coho, Sockeye, Pink and Chum. These fish enter Prince William Sound at different times of the year. It is not uncommon for several species of salmon to be available at any one time during the summer and fall months. Halibut fishing is King in Valdez. These incredible fighting fish can weigh as much as 400 pounds and are some of the best eating fish in the world. Many area charters offer combination trips for both salmon and halibut depending on availability of salmon. Other saltwater species include: flounder, rockfish, Pacific Cod and Dolly Varden.
Each year, Valdez hosts three fishing derbies. They feature daily, weekly and seasonal grand prizes. The Valdez Chamber of Commerce (907) 835-2330 will send you information about the dates, rules and regulations of these Summer events.
The Valdez Fishing Availability
Halibut – Year Round
Pink Salmon – Mid to late June through early August
Chum Salmon – Early July through Mid September
Silver Salmon – Mid July through Mid September
King Salmon – Year Round
Kayaking
Prince William Sound is one of the most pristine environments for water sports. There are several Kayaking companies that offer remarkable day and overnight trips through the many islands and coves of Prince William Sound. These trips are usually guided and the equipment is top notch and easy to use. Among some of the wildlife you might encounter on these trips are: Whales, sea otters, sea lions, seals, eagles, and puffins.
Other activities include:
Alyeska Marine Terminal Tour, Keystone Canyon Rafting Tours, Valdez Museum, Soloman Gulch Fish Hatchery Tour, Flightseeing, Historic Sightseeing Tours (By Bus)