Comfortable Valdez Accommodations
Affordable and clean rooms close to Valdez attractions and activities
Located just moments from the Valdez harbor and close to restaurants and cafes, our Downtown B&B Inn offers excellent accommodations year-round.
Our hotel is one block from the Small Boat Harbor which makes us the perfect location for visitors departing on day trips for fishing, sightseeing, and the Alaska Ferry system.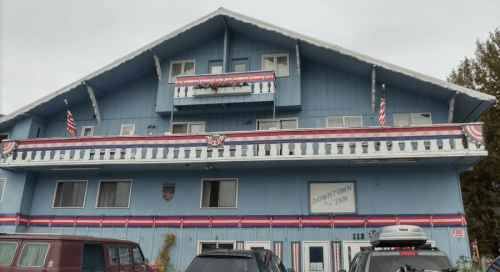 Whether you want to explore the Worthington Glacier, take a boat tour, or experience heli-skiing, we offer the perfect place to stay.
Our Valdez lodging features cozy and clean rooms with private bathrooms. 
Our location is perfect for visitors who are interested in fishing, sightseeing, and glacier tours in Prince William Sound.
At our B&B Inn, you'll enjoy all the comforts of home in the heart of Valdez. Within three blocks, you can find exceptional restaurants, local shops, the Valdez post office, serval museums, the docks, and the ferry terminal.
We offer ample parking on-site, so you can leave your car and explore the whole town at your leisure.
Your hosts, Glen and Sharon Mills are long-time Alaskan residents who know exactly what you need to have a pleasant stay. Our staff is dedicated to making sure your downtown stay is a highlight of your trip to Valdez.
Enjoy our warm hospitality with reasonable rates, weeklong rates, and special group rates. The Downtown B&B offers a personalized touch and a homey feel that will make your stay in Valdez remarkable.
At Downtown B&B Inn, there is information about all area services, including restaurants, shopping, and travel information for the surrounding areas. Feel free to ask our staff any questions.
Valdez Accommodations Steps Away from Your Next Adventure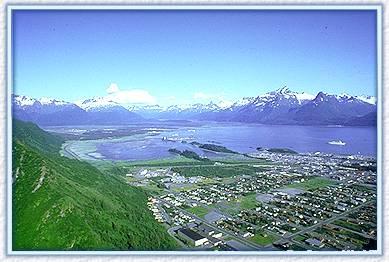 The Downtown B&B Inn is less than two blocks from the harbor. That makes our Valdez accommodation option the perfect home base for your next big adventure.
If you want to experience Prince William Sound firsthand, you can book a tour that leaves less than 5 minutes from our front door.
Harbor adventures include fishing, kayaking, boat tours, and more. When you head out on the Sound, you'll see incredible wildlife, including sea otters, cormorants, bald eagles, horned and tufted puffins, and maybe even humpback whales.
On land, you can explore the unparalleled natural scenery of the surrounding area and choose from an abundance of activities.
Enjoy hiking, biking, climbing, and glacier and wildlife tours. You can also see Valdez from above on a Heli tour. This once-in-a-lifetime experience lets you see the surrounding mountains and glaciers from a new perspective.
If the weather is right, you can try heli-skiing and heliboarding on the nearby mountain slopes.
Plan Your Trip with Our Knowledgeable Staff
At the Downtown B&B Inn, we'll help you plan your next Valdez adventure. We offer information about all the local services, including restaurants, shopping, and activities.
Need travel information about what to do nearby or where to go next? Ask our friendly and knowledgeable staff about things to do in Valdez and the surrounding area.
The Downtown B&B Inn Offers Everything You Need for a Great Stay
Are you ready to book your Valdez lodging? Enjoy a perfect stay and take advantage of all we have to offer. Our downtown B&B includes:
Rooms with Amazing Mountain Views
Washer and Dryer Facilities
Knowledgeable and Friendly Staff
Free WiFi
FireStick streaming service
Reasonable Rates
Special Group Rates
Why Visit Valdez?
Valdez, Alaska, is a beautiful coastal city nestled in the mountains just a few hours from Anchorage. It's located on the north shore of Prince William Sound, and it's a gateway to breathtaking views of tidewater glaciers, beautiful forests, and stunning hiking trails.
Valdez is a traveler's paradise, with great Valdez lodging, numerous restaurants, and incredible attractions and tours. The drive from Anchorage offers spectacular views of the Keystone Canyon and the Worthington Glacier.
What People Are Saying
"We completely loved our stay here!" – Samuel.
"Very friendly and caring staff. It's in the middle of everything and only a block from harbor drive! Close to the ferry terminal and the airport." – Renee.
"We found a clean, comfortable room with a queen bed. Private bath with thick, fluffy quality towels, flat-screen TV, WiFi, and a nice view! Within an easy walk to the harbor. Glen and his staff were friendly and shared helpful information about the town. The bright display of flowerpots at the entrance was very inviting! I would stay here again!" – Barbara.
"It's a quiet B&B, and the employees are so very kind! An awesome place to stay, and it's also really close to the water." – Hayley.
Affordable, clean, comfortable Valdez accommodations that are close to everything – attractions and activities!